Sold Out
Masdevallia fuchsii #518 outcross ('4671' x 'Ron') (approximately 25 seedlings per flask).
The Species: It grows in Peru from from 4600 to 5600. The mature plants are 3 to 5" tall and the flowers are about 1.5" wide. This is a very free-flowering species and can bloom off and on all year.
Culture: I grow this in intermediate conditions with year round moisture and fertilize at every watering with dilute fertilizer. I have grown it in moss and fine bark mix with equal success. It should also do well mounted.
Capsule parent: Masdevallia fuchsii '4671'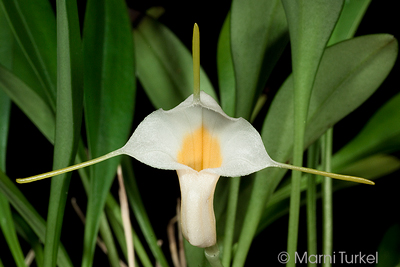 Pollen parent: Masdevallia fuchsii 'Ron'