During checkout: select the "Orchid & Flask Orders" payment option.
You will be billed later.
Before you commit to buy, please read About Ordering
In the shopping cart: use your back button to return
Masdevallia lamprotyria outcross #5433 ('A' x 'B') (approximately 15 seedlings per flask).
Up for Bid: A blooming sized division of Masdevallia lamprotyria. The auction plant is shown in the images with the tape measure. The blooming images are of another clone from the same geographical area. This species tends to have a large flush of flowers at one time. The auction plant is growing in a 1.5" transparent planter in a fine bark mix. The tallest leaf is 4.25" tall. [1.15B]
The Species: The name lamprotyria comes from the Greek lampro (bright) and tyrius (purple) referring to the vibrant color of the glossy 1.5" flowers. It was discovered in 1978 in the Andes of northern Peru at 6600 ft. This species tends to have a large flush of flowers at one time making for a very nice show.

Culture: I have grown this well both mounted and potted. If potted it should be repotted before the medium breaks down to prevent leaf tip burn. Also, good quality water will go a long way to having a nice looking plant. I have grown and bloomed it in intermediate conditions but find it blooms better in cool temperatures.
Capsule parent: Masdevallia lamprotyria 'A'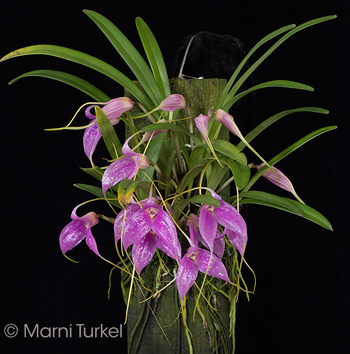 Pollen parent: Masdevallia lamprotyria 'B'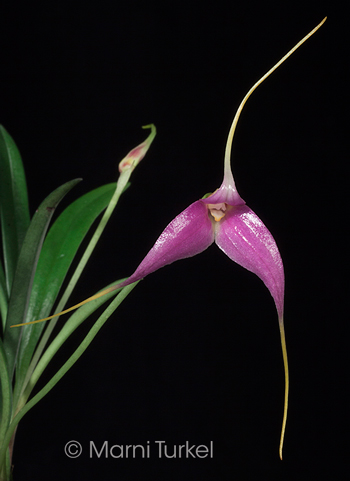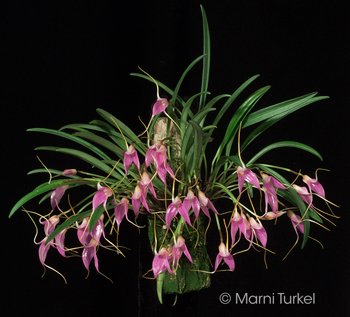 Capsule parent: Masdevallia lamprotyria 'A'