During checkout: select the "Orchid & Flask Orders" payment option.
When this item has a price and becomes available for order
you can decide if you want to commit to buy it.
In the shopping cart: use your back button to return
Masdevallia setacea outcross #2518 ('Walter' x 'Stony Point') (approximately 25 seedlings per flask).
The Species: It grows at elevations from 4600 to 8000 feet in Colombia, Ecuador and Peru. The flowers of this species can range from a cream color with a little coloring at the base of the petals & sepals to the less commone almost solid dark coloration and can be up to 8" from tip to tip. This species blooms on and off over a long period of time. I have had plants blooming regularly from October through March and a specimen plant will have multiple flushes of flowers during the season.
Culture: It is a cool-intermediate to cool grower and like all cloud-forest plants, it requires good quality water and year round moisture. I fertilize them with 1/4 strength fertilizer most of the year and a bit lower strength in winter. I have grown them potted in a fine bark mix and mounted with equal success.
Capsule Parent: Masdevallia setacea 'Walter
'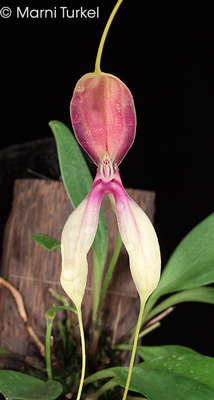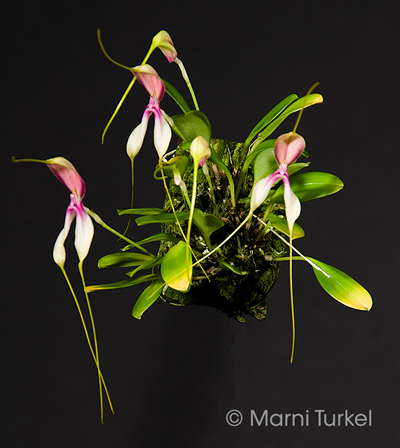 Pollen Parent: Masdevallia setacea 'Stony Point'