Sold out
Maxillaria reichenheimiana outcross #1304 ('Karol' x 'Jimenez') (approximately 25 seedlings per flask).
The Species: Noted for its beautiful foliage, both parents of this outcross also have beautiful flowers. One of the plants is from northern Peru and the other is from southern Ecuador. The species is free-flowering and blooms several times from spring into fall with 3" wide flowers. It grows from 2600 to 5000 feet elevations. The leaves are a blue-green with a bit of purple on the edges and the underside and lots of white spots so it is beautiful in or out of bloom. There is also a related species that is more frequently encountered in collections that is named Maxillaria pseudoreichenheimiana with smaller flowers and can be distinguised by the fact that the spots on M pseudoreichenheimiana can be scratched off the surface of the leaf while those of this species do not scrape off.
Culture: Grow in moderately bright light, year round water, dilute fertilizer with intermediate temperatures. My plants have done much better with 56 F minimum nights than at 50 F. It would probably grow well in warmer conditions also. Water as it approaches dryness. I have grown it potted in a variety of media, but something that will approach dryness between waterings seems best. When mounted I water it daily for most of the year and in the winter as it approaches dryness..
Capsule Parent: Maxillaria reichenheimiana 'Karol'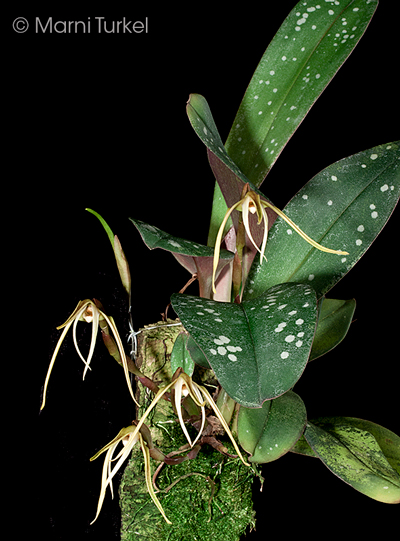 Pollen Parent: Maxillaria reichenheimiana 'Jimenez'