During checkout: select the "Orchid & Flask Orders" payment option.
You will be billed later.
Before you commit to buy, please read About Ordering
In the shopping cart: use your back button to return
Mormodes tuxtlensis outcross #3026 ('Stony Point' x 'Christian') (approximately 25 seedlings per flask).
The Species: Mormodes tuxtlensis is from Mexico from mountains near Vera Cruz. It is an epiphyte at elevations from 1650 to 4000 ft. It has fragrant flowers about 2.5" across. The spikes emerge from the base of the immature growth and are horizontal and then arching to pendant. Mormodes are not symmetrical flowers, the column twists to one side giving it a very distinctive appearance. It is a very showy when in bloom.
Culture: Grow in moderately bright light, year round water, dilute fertilizer. Fortunately for me, I learned to grow and bloom this plant before I started getting advice on how to do it. I do not give it a dry rest in the winter. It grows (and blooms) best for me hanging in a basket over my benches where it gets watered on the same schedule as my potted plants both summer and winter. That means that it dries a bit more between waterings than the plants below, but does not remain dry for any prolonged period. As a new growth matures on this species, the growth from 2 years ago withers, this is natural.
Capsule Parent: Mormodes tuxtlensis 'Stony Point'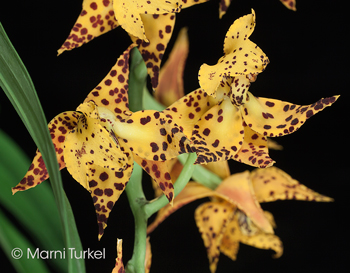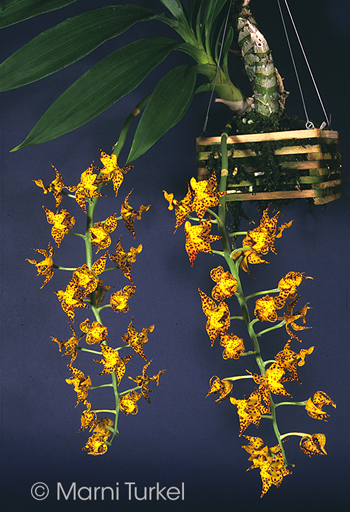 Pollen Parent: Mormodes tuxtlensis 'Christian'