Sold out
Mystacidium braybonae sibling cross #2885 (approximately 25 seedlings per flask). Both of the parents are from a cross between the two clones shown here.
The Species: It comes from the northern part of South Africa where it is found at elevations from 2650 to 5000 feet. It grows in deciduous forest where it receives ample rain and high humidity in the growing season and a drier cooler winter. The flowers are fragrant, a sparkling white and about 1/2" wide.
Culture: I grow this species in intermediate to cool conditions but it can be grown warmer. I fertilize them with 1/4 strength fertilizer most of the year. The roots of this species like to dry quickly and are quite long, so mounting on a relatively long mount is recommended. This species does best for me with a drier period in winter.
Mystacidium braybonae 'Stony Point'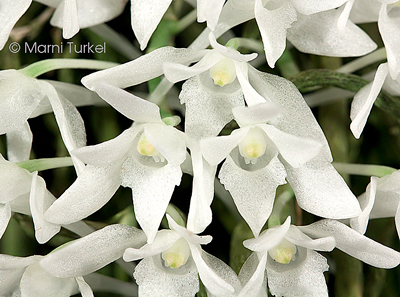 Mystacium braybonae 'TM'