During checkout: select the "Orchid & Flask Orders" payment option.
You will be billed later.
Before you commit to buy, please read About Ordering
In the shopping cart: use your back button to return
Oeonia volucris #5211 outcross ('Osman' x ''Rocky')(approximately 25 seedlings per flask).
The Species: Found in eastern coastal forests in Madagascar. The plant has a bit of a rambling habit since it grows scrambling through the canopy. References disagree on the elevation range; all start at sea level and go from 330, 4000 to 5000 ft. The name, Oeonia volucris, is pronounced ee-OH-nee-a vo-LU-kris.
Culture: Grow in warm to intermediate conditions. It is traditionally grown mounted especially if you can give it good humidity. It is helpful to drape the plant with Spanish moss (Tillandsia usneoides), if available, to keep the humidity at the roots. I have grown seedlings to blooming size in compot in a fine bark mix.
Capsule parent: Oeonia volucris 'Osman'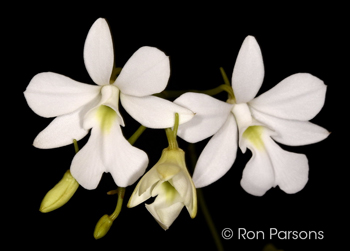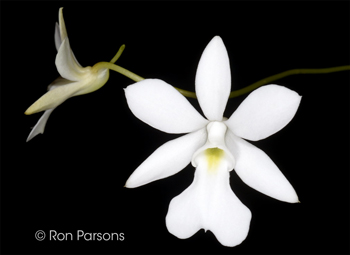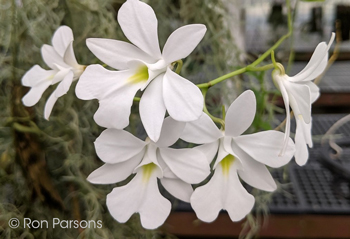 Pollen parent: Oeonia volucris 'Rocky'