During checkout: select the "Orchid & Flask Orders" payment option.
You will be billed later.
Before you commit to buy, please read About Ordering
In the shopping cart: use your back button to return
Oncidium forbesii sibling cross #4324 ('11/10 A' x '11/10 B') (approximately 25 seedlings per flask).
The Species: The parents of this cross were both first bloom seedlings from an outcross I had done some years earlier using selected plants. One was blooming in a compot. The species grows inBrazil where it comes from cool, humid forest. It is usually an epiphyte but it can also be found growing as a terrestrial. While it can have up to 30 flowers per inflorescence, 6 to 14 is a more usual number. The flowers are 2 to 2.5" wide.
Culture: This species does well with cool nights and moderate days. Grow in moderate light with year round water. There is a lessening of rain in the winter where it grows, bur it does not get a "dry rest". With good humidity it can be grown mounted. I has done well for me in pots in a fine bark mix though it has a tendancy to climb. A compromise is to mounted in and then put the mount in a pot with the medium up to the base of the plant.
Capsule parent: Oncidium forbesii '11/10 A'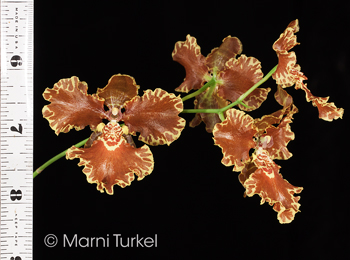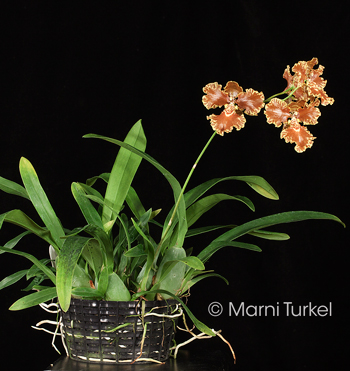 Pollen parent: Oncidium forbesii '11/10 B'