Sold out
Oncidium ghiesbreghtianum outcross #3547 ('7792' x 'Lisa') (approximately 25 seedlings per flask).
The Species: This cheerful species is found only in Mexico growing between 4600 to 7600 feet elevation. It blooms from the new growth before it is mature and has long lasting flowers. Formerly known as Mexicoa ghiersbreghtiana. The species name is pronounced GEES breck tiana.
Culture: Grow this in moderate light in intermediate to cool conditions. I water as it approaches dryness and fertilize with 1/4 strength fertilizer during the growing season. Judging by the climate in the habit, this could benefit from a slightly drier winter, but it blooms well for me without. I grow it mounted or potted.
Capsule parent: Oncidium ghiesbreghtianum '7792'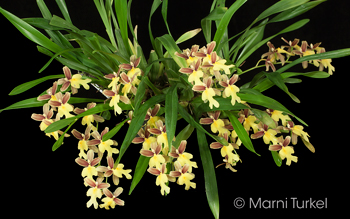 Pollen parent: Oncidium ghiesbreghtianum 'Lisa'