During checkout: select the "Orchid & Flask Orders" payment option.
You will be billed later.
Before you commit to buy, please read About Ordering
In the shopping cart: use your back button to return
Ornithocephalus powellii outcross #3543 ('7904' x '7911') (approximately 25 seedlings per flask).
The Species: It is found in Panama where it grows as an epiphyte from sea level to 3300 ft. The flowers are approximately 3/4" tall and the plants are are are just under 4" long under my conditions. There is very little information about this species.
Culture: I grow these mounted on cork or hardwood in shady conditions in a warm greenhouse Where the minimum winter night is 65F. They are watered daily in spring through fall and less often in the winter months. They are dry before they are watered again but do not remain dry for any extended period of time. I use dilute ferilizer at most waterings.
Capsule parent: Ornithocephalus powellii '7911'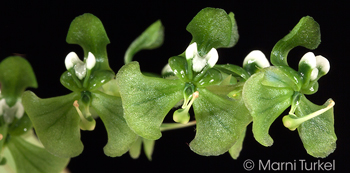 Pollen parent: Ornithocephalus powellii '7904'