Sold out
Paphinia herrerae outcross #3044 ('5462' x 5314') (approximately 25 seedlings per flask).
The Species: This Ecuadorian species is found at elevations from 2300 to 4000 feet. It grows as an epiphyte in wet forests in shady conditions. The flowers on the capsule parent are almost 7" natural spread.
Culture: xxxdifferent species culture. I grow this hanging up in a fine bark mix in a net pot or mounted on tree fern where it gets water almost daily. To grow it on a bench with less frequent watering I will set the net pot inside a plastic pot. Water with dilute fertilizer and grow in shade to moderate light. Intermediate to warm conditions suit it best.
Capsule parent: Paphinia herrerae '5462'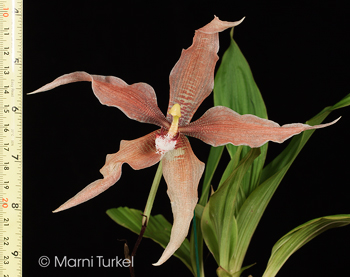 Pollen parent: Paphinia herrerae '5314'