During checkout: select the "Orchid & Flask Orders" payment option.
When this item has a price and becomes available for order
you can decide if you want to commit to buy it.
In the shopping cart: use your back button to return
Phalaenopsis thailandica (gibbosa) #3932 outcross ('0925' x '0912') (approximately 25 seedlings per flask). I may substitute the reciprocal or reverse cross ('0912' x '0925') depending on availability.
The Species: For many years this has been in the trade as Phalaenopsis gibbosa. It turns out that that name applies to a different species and this is now properly called Phalaenopsis thailandica. It grows in Laos and Vietnam at elevations from sea level to 3300 feet as an epiphyte. The leaves on a mature plant can be up to 3" long.
Culture: It is a warm to cool-intermediate grower that does well when it is allowed to approach dryness between waterings during the growing season and a bit drier in the winter. I fertilize at every watering at the rate of 1/4 teaspoon per gallon and a bit lower strength in winter. The root system is quite long so allow enough mount to let the roots run. I have always grown this species mounted with the leaves positioned down so that water doesn't collect. I've been growing these at 56F minimum night, but have also bloomed them well at 50F nights. In cooler temperatures, they may be deciduous and should be kept on the dry side during cold weather.
Capsule parent: Phalaenopsis gibbosa '0925'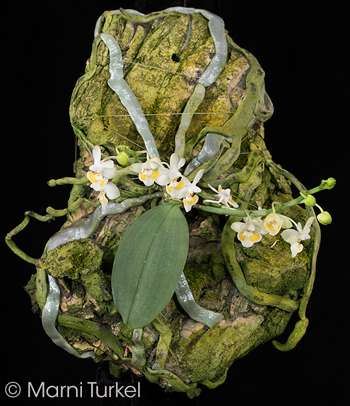 Pollen parent: Phalaenopsis gibbosa '0912'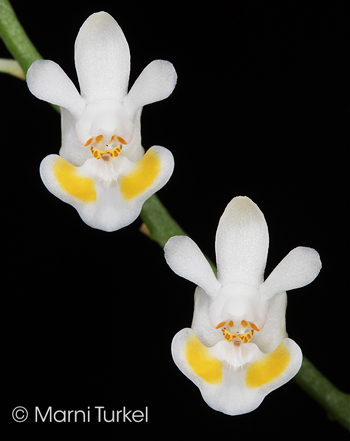 Phalaenopsis gibbosa, an unrelated clone that gives another view of a blooming plant.