Sold out
Phalaenopsis javanica outcross #4976 ('4867' x '4869') (approximately 15 seedlings per flask).
The Species: This grows as an epiphyte in forest on the southern coast of West Java at elevatios up to 3300 ft. It is a moderately sized plant with leaves up to 9" long. The few flowered inflorescence may be simple or may branch and the flowers are scented and about 1" wide.
Culture: Temperatures in the habitate vary little through out the year and are in the mid-60F at night and in the upper 70's to low 80's in the summer. The rainfall is heavy during the late spring and summer, decreasing in late summer and through April when it begins to increase again. Even though there is less rain, do not let the plants dry completely. Give it shady conditions especially in the summer and if possible a bit more light in the winter. I have always grown these mounted, but they will do well in a medium bark. Some possible additions to the bark are coarse perlite, chopped sphagnum or charcoal.
Capsule parent: Phalaenopsis javanica '4867'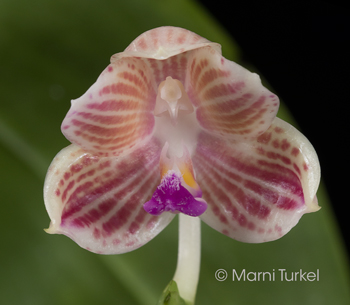 Pollen parent: Phalaenopsis javanica '4869'