During checkout: select the "Orchid & Flask Orders" payment option.
You will be billed later.
Before you commit to buy, please read About Ordering
Phalaenopsis mannii outcross #2846 ('0693' x '3550') (approximately 25 seedlings per flask).
The Species: A fragrant Phalaenopsis species from the Himalayas where it is found from India through to southern China and Vietnam. It is a small to medium sized plant that grows as an epiphyte at elevations from 1650 to 5000 ft in shady conditions with good humidity. The 1.5" flowers (up to 70) are produced successively and are long-lasting.
Culture: I have grown this in intermediate conditions for many years and recently have had success growing it warm also. It is best grown mounted since the flower spikes are pendant. I give it daily water and dilute fertilizer from most of the year with a drier regimen in winter. Give it good humidity and with shady conditions.
Capsule Parent: Phalaenopsis mannii '0693'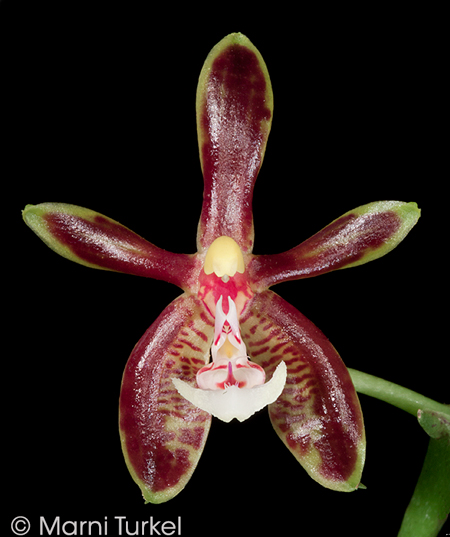 Pollen Parent: Phalaenopsis mannii '3550'