During checkout: select the "Orchid & Flask Orders" payment option.
When this item has a price and becomes available for order
you can decide if you want to commit to buy it.
In the shopping cart: use your back button to return
Phalaenopsis parishii outcross #4978 (approximately 15 seedlings per flask).
The Species: This is found from the eastern Himalaya Mountains through Thailand and Vietnam at elevations below 1650. The flowers, approximately 3/4" tall, will bloom with up to 5 flowers per inflorescence.
Culture: I find this species does better for me in warm conditions (65F minimum nights) than it does in intermediate conditions (56F minimum nights). I water with dilute fertilizer almost daily during the growing season.The rainfall is heavy in the habitat from May through September. I decrease watering so that I am misting occassionally and water about once per week. I have only grown it mounted, but know that some do grow it in small pots.
Pollen parent: Phalaenopsis parishii 7462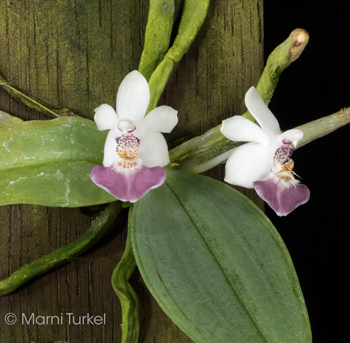 Another clone of Phalaenopsis parishii that shows the plant habit well.