During checkout: select the "Orchid & Flask Orders" payment option.
You will be billed later.
Before you commit to buy, please read About Ordering
In the shopping cart: use your back button to return
Phalaenopsis stobartiana #5555 outcross ('2044' x '2036') (approximately 25 seedlings per flask).
The Species: This is found in China in the province of Yunnan where it grows at 2600 to 2950 ft elevation as an epiphyte. This species is frequently deciduous in nature but usually keeps it leaves in the winter in cultivation. The inflorescence is up to 8" long and carries 7 to 9 of the olive green flowers which are fragrant.
Culture: This species should be mounted on cork bark or other hardwood, preferably with rough bark. If you can, give the long roots room to run up and down the mount. Give it ample water and dilute fertilizer during the growing season and then a drier winter rest with occassional misting October through April. I grow mine in a warm greenhouse year round in moderate light.
Capsule parent: Phalaenopsis stobartiana '2044'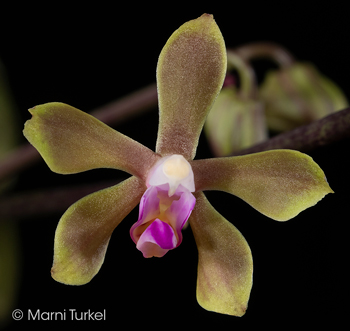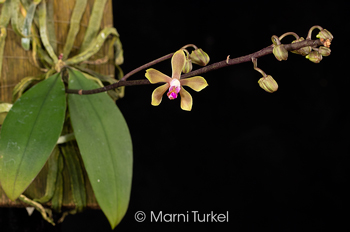 Pollen parent: Phalaenopsis stobartiana '2036'