Sold out
Phalaenopsis taenialis x self #4407 (approximately 25 seedlings per flask).
The Species: This is a mid to high elevation plant from the Himalayan mountaines from northeast India to China. It is found at elevations from 3300 to 8200 ft. The inforescence is up to 4" long and carries up to 8 fregrant flowers that are a bit over 3/4" wide. Phalaenopsis braceana is now included as a synonym of Phal. taenialis.
Culture: It is a miniatrue plant, but the roots like to roam, so give it a longer mount than you might normally use. It comes from monsoon climates where it gets a warm, wet, shady summer and a cooler, brighter, drier winter. The rainfall is heaviest from June to September. The least rain is in November and December. I grow the parent of this cross with 50F minimum winter nights and 75F maximum summer days with only misting during the winter months. It can go lower than that as long as the plant is dry during those times. That said, I have grown plants labeled Phalaenopsis braceana (now a synonym of taenialis) in warm conditions with no particular dry rest and still had good bloomings. I grow this in shade to moderate light.
Parent: Phalaenopsis taenialis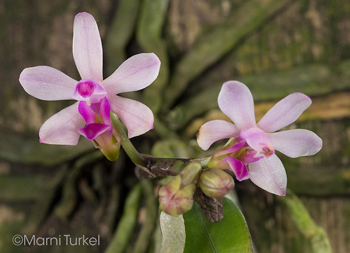 Phalaenopsis taenialis in situ in Bhutan 8250 ft elevation