Sold out
Polystachya fallax back cross #2454 (approximately 25 seedlings per flask).
The Species: This miniature species is from central east Africa at elevations of 4500 to 5275 feet in rainforest. The 1" wide, non-resupinate (upside down) flowers are noted for their fragrance and are long-lasting. Up to 7 flowers per inflorescence. The plants have a climbing habit, but do well potted. Mature growths are about 4" tall. I love this species. I have only been able to find one clone of it and made a selfing of that (Polystachya fallax 'Spring Hill') in 2003. This cross is with one of the seedlings of that selfing crossed back to the parent.

Culture: I grow this species in intermediate to cool-intermediate conditions, moderate light levels and regular dilute fertilizer. I have grown it well potted in fine bark mix and also mounted. It is watered year-round just as it approaches dryness.
Capsule Parent: a selected seedling from a selfing of Polystachya fallax 'Spring Hill'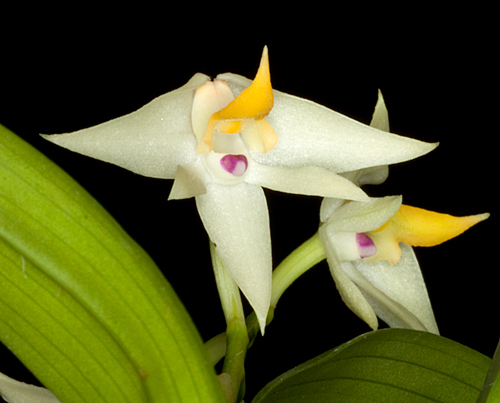 © Marni Turkel
Pollen parent: Polystachya fallax 'Spring Hill'