Sold out
Prosthechea karwinskii (citrina) outcross untreated 2N #1118 ('2059' x 'Wild Geese') (approximately 25 seedlings per flask).
The Species: Recently the species Prosthechea citrina has been split up. This form is now known as Prosthechea karwinskii. I'm not sure it pays to keep up with the name changes on this genera, but the species is another story. Since I have been growing it it has gone from the genus Cattleya to Encyclia to Euchile and now Prosthecea. What ever you call it, you don't forget the wonderfu, citrus fragrance once you have smelled it. It is a pendant plant with distinctive grey-green foliage and a large yellow flower if your culture is right. The flower on these parent plants are about 4" wide. It is endemic to Mexico where it grows at elevations from 4300 to 8600 feet. It needs a cooler, drier period in the winter to perform well.
Culture: Warm, wet, shady summers with enough air movement that the mount dries quickly. Cool, dry winters. These are grown out doors in mild weather climates on the West Coast and can be grown with cymbidiums and Laelia anceps temperatures.
Capsule Parent Prosthecea citrina '2059'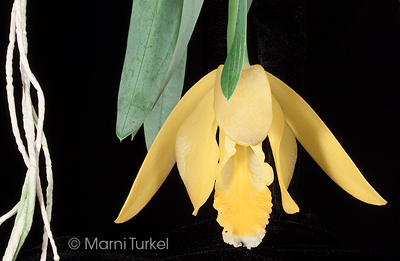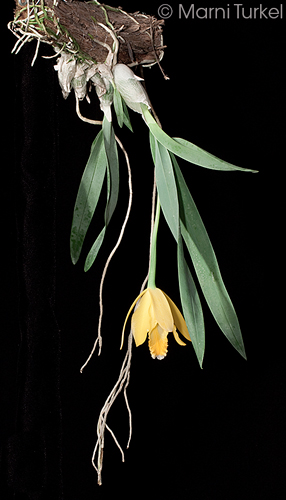 Pollen Parent: Prosthecea citrina 'Wild Geese'