Sold out
Promenaea guttata outcross #2550 ('Ben' x 'Leon') (approximately 25 seedlings per flask).
The Species: Promenaea guttata is a member of the Zygopetalum alliance from Brazil. It usually has two flowers per inflorescence in the Spring and Summer. The foliage is a soft grey-green color. It is a compact plant, with upright to arching spikes.
Culture: Promenaeas can be easy to grow in cool-intermediate to cool conditions. Moderate light levels and regular dilute fertilizer. I have grown it in fine bark mix, light terrestrial mix as well as mounted. I water year-round and water as it before it approachs dryness. One of the secrets of growing promenaeas is do NOT repot/remount when a new growth is coming. Wait until the growth has matured. If you repot at the wrong time, the plant can sit for years before it begins to grow again.
Capsule parent: Promenaea guttata 'Ben'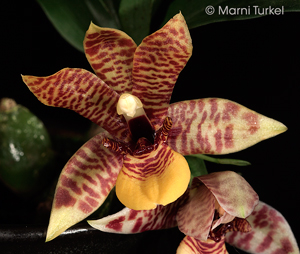 Pollen parent:Promenaea guttata 'Leon'