Sold Out
Pleurothallopsis (Restrepiopsis) monetalis outcross #842 ('#2' x 'JL') (approximately 25 seedlings per flask).
The Species: A delightful species that can bloom at any time of year. The small stature plant itself is charming with the round leavesand stays about 4" tall. The flowers are normally on the back of the leaf but are not really hidden. Flowers are long lasting. The species is found in Venezuela, Ecuador and Peru and elevations from 6000 to 6600 ft. These plants were from Ecuador. The capsule parent is an imported plant and the pollen parent is a seed grown plant from a different plant from Ecuador.
Culture: I grow this both mounted and potted in cool and cool-intermediate conditions. Year round water and dilute fertilzer.
Capsule Parent: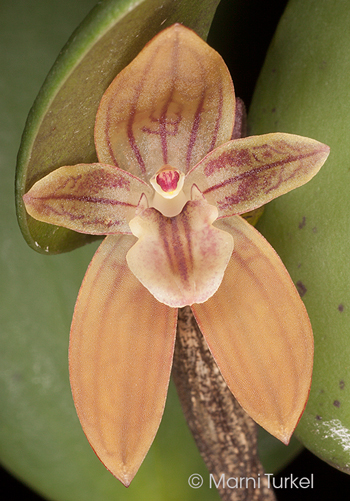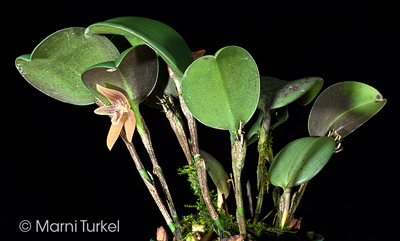 Pollen Parent: I don't have an image of the pollen parent.