Sold out
Rhynchostele rossii outcross 4N #1094 ('Hawk Hill' x 'Augie') (approximately 25 seedlings per flask).
The Species: Found from Mexico through Nicaragua at elevations from 6600 to 9900 ft in cloud forest. The flowers are up to 3" wide. These seedling were treated to convert them from genetic diploids (2N) to tetraploid (4N )which usually gives larger flowers of heavier substance and vigorous growth. There is no guarantee that any individual plant will have converted.
Culture: It grows well with cool to cold conditions in moderate light. It is a cloud forest plant and needs good quality water to thrive. I water it year round with dilute fertilizer. It doesn't get a dry rest in winter, but can dry between waterings especially in cold, grey weather. I prefer to grow it mounted, but others do well with it potted.
At present I don't have any images of these particular parents but I have an image of a seed grown plant that shares one of the parent 'Augie.' The 2nd image is a plant in my collection that gives a sense of the blooming habit.
Seedling using 'Augie' as a parent: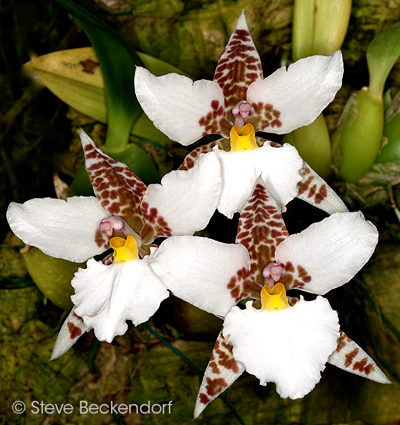 Plant habit of another clone: