During checkout: select the "Orchid & Flask Orders" payment option.
You will be billed later.
Before you commit to buy, please read About Ordering
In the shopping cart: use your back button to return
Rossioglossum schlieperianum outcross #3630 ('8211' x 'Sanchez') (approximately 25 seedlings per flask).
The Species: This grows in Costa Rica and Panama at elevations from 4000 to 5900 ft on the trunks of trees in evergreen forest, typically along waterways. Plants can be up to 16" tall with pseudobulbs close together. The upright to slightly arching inflorescence is from 10 to 16" tall with 3 to 8 of the 3" wide flowers.

Culture: Grow in cool to cool-intermediate temperatures with moderate shade. The rainfall in the habitat is reduced in from November-December through April. The growing season brings rain and cloudy skies. Medium bark or a bark mix is a good medium for this species coupled with dilute fertilizer during the growing season. If conditions are ideal (high humidity) this can be grown mounted.
Capsule parent: Rossioglossum schlieperianum '8211'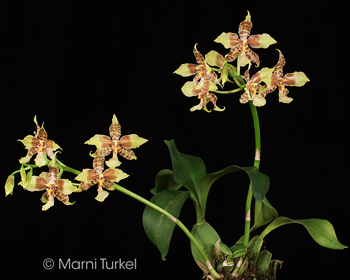 Pollen parent: Rossioglossum schlieperianum '8217'