During checkout: select the "Orchid & Flask Orders" payment option.
When this item has a price and becomes available for order
you can decide if you want to commit to buy it.
In the shopping cart: use your back button to return
Sarcochilus ceciliae sibling cross #4074 ('1813' x '0464') (approximately 25 seedlings per flask).
The Species: This miniature species is from Australia. The flowering season is spring and summer for this successive bloomer, with up to 30 flowers per inflorescence. Individual flowers last for several weeks and blooming can continue for months.The sparkling flowers are about 5/8" wide.
Culture: Cool to intermediate conditions suit the plant well. It is best grown potted. Give it regular water with dilute fertiziler and moderately bright light for most of the year. Cut back just a bit on water during the winter. Pot it in a fast draining media and be sure the the base of the plant is not buried and perhaps a bit above the level of the media to prevent rot.
Capsule Parent: Sarcochilus ceciliae '1813'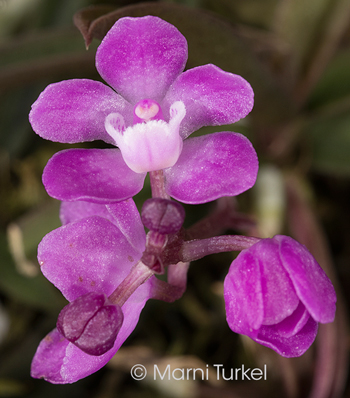 Pollen Parent: Sarcochilus ceciliae '0464'