Sold out
Sarcochilus falcatus outcross #2353 ('0628' x '0634') (approximately 25 seedlings per flask).
The Species: This wonderful species is an Australian native and has the fragrance of orange blossoms. It is found at elevations from 1000 to 4650 ft as an epiphyte or lithophyte. The sparkling white flowers have a touch of colored barring on the side lobes of the lip and are up to 1.5" wide.
Culture: I have grown this species potted in fine bark mix, but it is best grown mounted since the plant is semi-pendulous and lends itself to mounted culture. Grow it in moderate light to shade and water year round.
Capsule Parent: Sarcochilus falcatus '0628'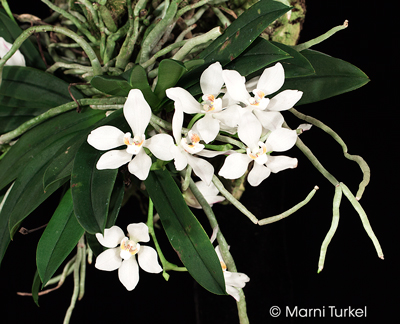 Pollen Parent: Sarcochilus falcatus '0634'