During checkout: select the "Orchid & Flask Orders" payment option.
You will be billed later.
Before you commit to buy, please read About Ordering
In the shopping cart: use your back button to return
Sarcochilus fitzgeraldii sibling cross #4074 ('7721' x 7718') (approximately 25 seedlings per flask).
The Species: This species is from Australia where it grows as a lithophyte (rock dwelling) in coastal valleys at evations from 1650 to 2650 ft. The inflorescence has 4 to 15 of the fragrant, 1.5" flowers that open successively.
Culture: I grow this in cool and intermediate conditions in moderately bright light. Australians recommend a mix of bark and lava rock, though I have grown these well in other bark mixes. Give it year round water with dilute fertiziler.
Capsule parent: Sarcochilus fitzgeraldii '7721'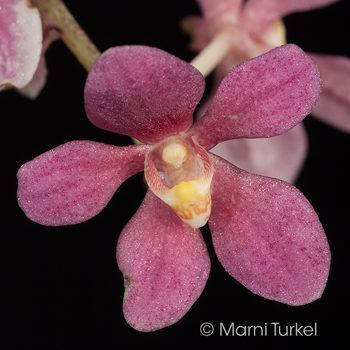 Pollen parent: Sarcochilus fitzgeraldii '7718'