Sold out
Sarcochilus hartmannii outcross #734 ('0760' x '0771') (approximately 25 seedlings per flask).
The Species: A wonderful, compact Australian species with long-lasting flowers. The flowers are up to 1.25" but for me more often about 7/8 to 1" wide. It grows in somewhat exposed locations up to 3300 ft elevation.
Culture: I prefer to grow this potted in fir bark, but some do well with it mounted. Mine are in a cool greenhouse, with year round water. It grows a bit drier in winter but not with a hard, dry rest. They can take quite bright light as long as humidity and good air movement are provided.
Capsule Parent: Sarcochilus hartmannii '0760'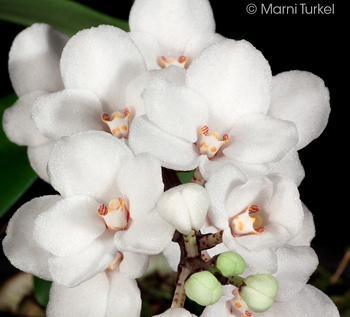 Pollen Parent: Sarcochilus hartmannii '0771'