Sold Out
Schoenorchis gemmata outcross #762 ('#2' x 'Stony Point' CCM/AOS) (approximately 25 seedlings per flask).
The Species: This is a very rewarding species because it can bloom at any time of year and a well-grown plant can be in bloom almost all year. The flowers are small, about 1/8" wide, but very noticeable because of the vibrant color and are also long-lasting. It is widespread in the Himalaya mountain range and grows on trees at elevation between 1320 and 8250 feet.
Culture: It is an warm to cool grower that requires year round moisture, just drying between waterings. I grow it in moderately bright light with good air movement, regular dilute fertilizer. Because of the pendant growth habit, they are most easily displayed when grown mounted.
Capsule parent: Schoenorchis gemmata '#2'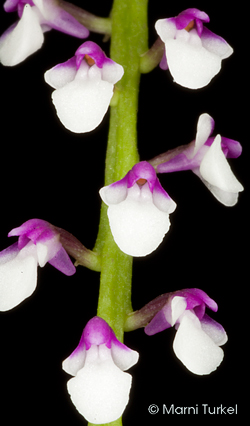 Left: plant at 5 years old. Right: plant at 15 years. Started from a single growth in 2003.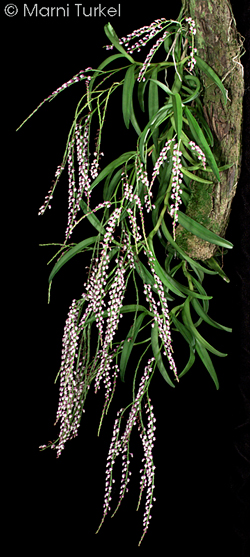 Pollen Parent: Schoenorchis gemmata 'Stony Point' CCM/AOS (There is a ruler on the right side of the full plant image below.)