Sold Out
Schoenorchis juncifolia outcross treated for ploidy (4N) #91155 ('Stony Point' x 'Petaluma' CCE/AOS) (approximately 25 seedlings per flask). These seedlings have been treated to alter the chromosome count. This does not guarantee that they will be 4N. For more information go to Ploidy.
The Species: This is found in Java, Borneo and Sumatra at elevations from 2500 to 6000 feet as a pendant epiphyte. The 4 inch inflorescences have many half inch flowers and look like a miniature wistaria. The clone used as the capsule parent is in bloom almost all year long.

Culture: Because of the pendant habit of the species it is easiest to grow this mounted. I give mine bright morning light and moderate sun the rest of the day, year-round water with dilute fertilizer and almost daily watering. Whether it is a small plant or a large specimen it is a great addition to any collection.
Pollen parent: Schoenorchis juncifolia 'Stony Point'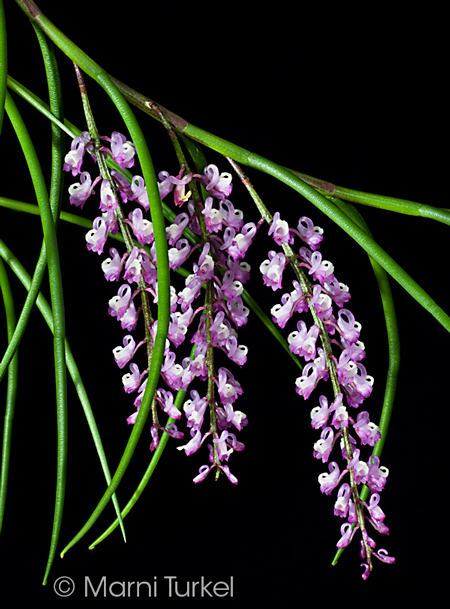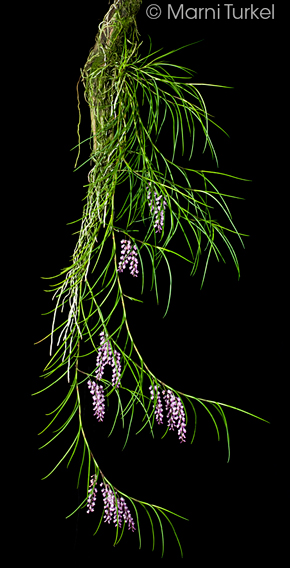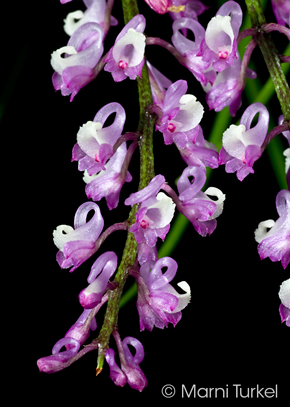 Pollen parent: Schoenorchis juncifolia 'Petaluma' CCE/AOS