Sold Out
Solenidiopsis (Oncicium) tigroides outcross #732 ('0995' x 'Bananas') (approximately 25 seedlings per flask).
The Species: A small, very fragrant species from Peru. It grows at elevations around 6000 ft. The 1" wide flowers are relatively long lasting and one of these clones has a distintive fragrance of bananas.
Culture: I grow this with 50F minimum winter night temperatures in moderate to moderately bright light. Daily water from spring through fall and misting during the winter. Regular, dilute fertilizer and moderate air movement.
Capsule Parent: Solenidiopsis tigroides '0995'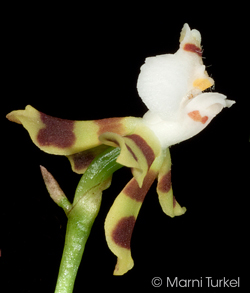 Pollen Parent: Solenidiopsis tigroides 'Bananas'