Sold Out
Cattleya (Sophronitis) coccinea xanthina backcross #853 ('5711' x '628') (approximately 25 seedlings per flask). This seed is from a capsule that was on a plant sold by Richard Stone. It was intentional and labeled. The clone #628 was a tissue culture plant from Japan many years ago. The capsule parent #5711 is a selfing of that plant and a selected clone.
The Species: Cattleya (Sophronitis) coccinea is from Brazil where it grows in the coastal mountains at elevations from 2000 to 5500 feet. This yellow or xanthina form is very rare and highly sought after.
Culture: It is an intermediate to cool grower that requires year round moisture. In the habitat they are wet from dew and fog in the early morning and dry off early in the day. The days can be warm but the nights cool off. I fertilize them with 1/4 strength fertilizer most of the year and a bit lower strength in winter. Many people grow this species potted in various media and containers such as moss in terra cotta and bark mix in plastic or net pot. I have the most success growing them mounted mounted on wood with very little moisture retentive material. They get daily water and are dry by afternoon. Air movement should be good and humidity high.
Capsule Parent: Cattleya (Sophronitis) coccinea xanthina '5711'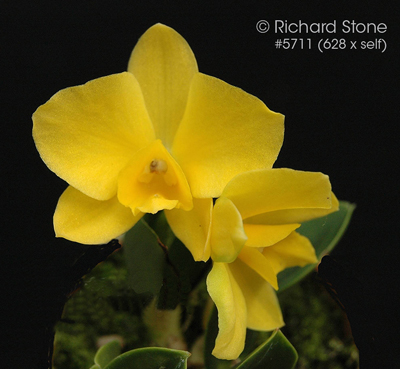 Pollen Parent: Sophronitis (Cattleya) coccinea xanthina '628'