During checkout: select the "Orchid & Flask Orders" payment option.
You will be billed later.
Before you commit to buy, please read About Ordering
In the shopping cart: use your back button to return
Cattleya (Sophronitis) mantiqueirae outcross #2600 ('1952' x '1960') (approximately 25 seedlings per flask).
The Species: This is found in Brazil where it is locally common in its range in the states of Rio de Janeiro and Minas Gerais. It is found growing at elevations from 4000 to 6600 feet in a variety of habitats. is frequently found on moss covered trunks and branches in stream gullies in bright filtered light and windy conditions. It will frequently bloom twice a year with one of the blooming's much heavier than the other.
Culture: This is most often grown mounted but can also be grown potted. The winters can be quite cold (in nature, close to freezing) and the days quite cool. Summers have warmer days up to 80°F but the nights are still cool. Keep the plant well watered but not wet with brisk air movement and high humidity. It will take bright diffuse light to bright shade.
Capsule Parent: Cattleya (Sophronitis) mantiqueirae '1952'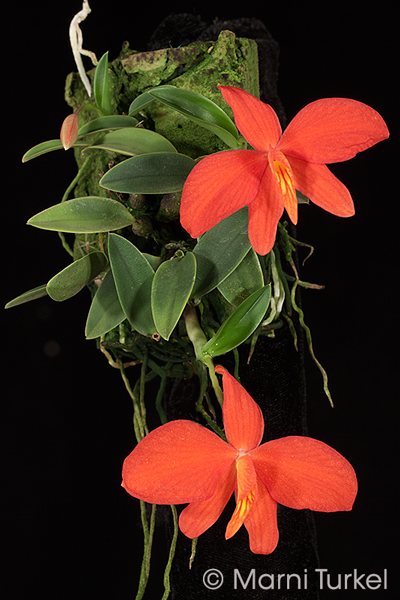 Pollen Parent: Cattleya (Sophronitis) mantiqueirae '1960'. I photographed this flower after it was past its prime so the color is not as vibrant as the actually flower.