Sold out
Sudamerlycaste lata treated sibling cross #3176 ('3674 Double #2' x '8982 Double #1') (approximately 25 seedlings per flask). These seedlings have been treated to alter the chromosome count. This does not guarantee that they will be 4N. For more information go to Ploidy.
The Species: It is a charming, small stature species that can bloom more than once a year and has a flush of flowers that makes an impressive display. The parents are from an outcross I did some years ago and both of the parents will sometimes produce 2 flowers from one inflorescence. The flowers last for several weeks and present themselves very nicely. It occurs in Ecuador and Peru. It has never done very well for me in cool conditions. I have grown numerous plants of this in intermediate conditions for years and recently have been growing some in warm conditions as well where it has grown well.
Culture: I grow this species potted in either a fine bark mix or a terrestrial mix. It is watered year round and gets dilute fertilizer at every watering during spring and summer. It sometimes approaches dryness between waterings but does not go dry for any prolonged period of time. Moderately bright light and intermediate to warm temperatures.
Capsule parent: Sudamerlycaste lata '3674 Double #2'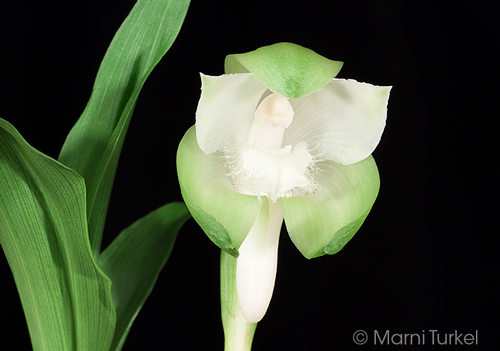 Pollen parent: Sudamerlycaste lata '8982 Double #1'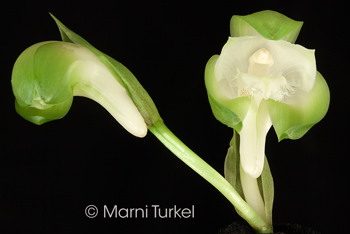 Sudamerlycaste lata specimen blooming