During checkout: select the "Orchid & Flask Orders" payment option.
You will be billed later.
Before you commit to buy, please read About Ordering

Trichocentrum longicalcaratum outcross #768 ('5387' x 'V#1') (approximately 25 seedlings per flask).
The Species: This species grows in Colombia, Ecuador and Peru at elevations from 3000 to 6000 ft in mountain forest. The pendant flowers are about 1.25" across and very long lasting. It can be in bloom for much of the year
Culture: I grow this plant with 55 degree minimum night temperatures in moderately bright light. It would likely do well with warmer temperatures too. It likes to dry slightly between waterings, but not be left dry for sustained periods. I water it most every morning unless it has not yet dried from the day before. It is best grown mounted to show off the somewhat pendant flowers.
Capsule parent: Trichocentrum longicalcaratum '5387'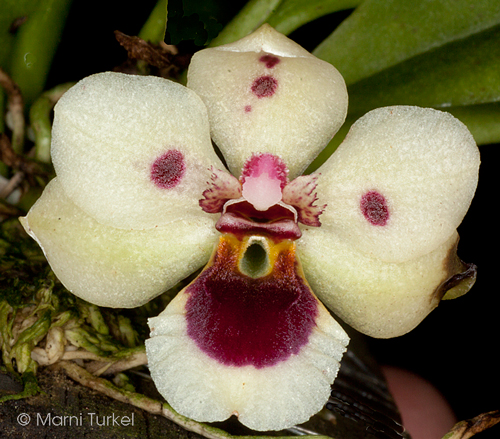 Pollen Parent: Trichocentrum longicalcaratum 'V#1'