Sold out
Trichocentrum pfavii outcross #2273 ('1216' x '6721') (approximately 25 seedlings per flask).
The Species: This comes from the border region between Costa Rica and Panama where it grows on the Pacific facing slopes. It is found at elevations between 2000 and 4250 ft. The plants are small (2 to 3" tall), forms clumps and grows as an epiphyte. The inflorescence carries a single flower and each recenlty matured growth can produce more than on inflorescence making it a candidate for speciemen bloomings. The flowers are about 1.25" wide.
Culture: I have grown this successfully in both intermediate and warm conditions. Give it moderately bright light, regular water and dilute fertilizer during the growing season allowing it to just dry between waterings. In nature it gets a drier winter, but I have bloomed it well without a significant dry rest.
Capsule parent: Trichocentrum pfavii '1216'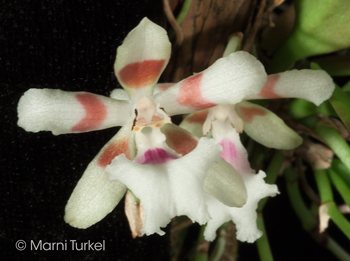 Pollen parent: Trichocentrum pfavii '6721'