Sold out
Trichocentrum albococcineum treated outcross #92890 ('4012' x '4283') (approximately 25 seedlings per flask). These seedlings have been treated to alter the chromosome count. This does not guarantee that they will be 4N. For more information go to Ploidy.
The Species: This minature Oncidium relative is one of the less well know Trichocentrum species. It is a wonderful addition to a collection. It is found Ecuador, Peru and Brazil and frequently found aroundd 4000 ft elevation where it grows as an epiphyte. The inflorescence is sequential, carries 1 flower at a time and will rebloom. The fragrant flowers are 2" tall and open successively with up to 5 flowers over time during the summer and fall.
Culture: I grow this plant with Trichocentrum tigrinum with 65 degree minimum night temperatures in moderately bright light. It likes to dry slightly between waterings, but not be left dry for sustained periods. I water it most every morning unless it has not yet dried from the day before. It is best grown mounted to show off the somewhat pendant flowers.
Capsule parent: Trichocentrum albococcineum '4012'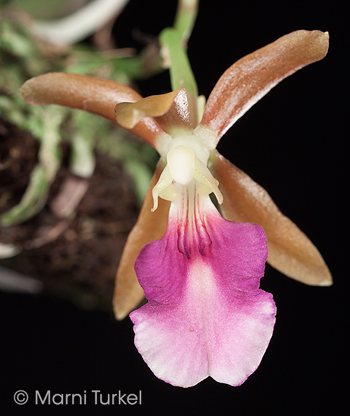 Pollen parent: Trichocentrum albococcineum '4283'