Sold out
Trichocentrum tigrinum outcross #3626 ('8201' x '7998') (approximately 25 seedlings per flask).
The Species: Trichocentrum tigrinum comes from Ecuador and Peru where it is found at low elevations from 650 to 2300 ft in tropical dry forest. The fragrant flowers are carried one or two per inflorescence and can be up to 3" across. The plant is under 5" tall.

Culture: This species grows warm or hot. I have tried it in intermediate conditions (56F minimum nights) with less that satsifactory results. In nature it gets a drier period in winter, but I have never done this in cultivation. I do let it dry between waterings. I have grown a few potted in bark with good success, but most have been grown mounted on hardwood with the roots exposed.
Capsule parent: Trichocentrum tigrinum '8201'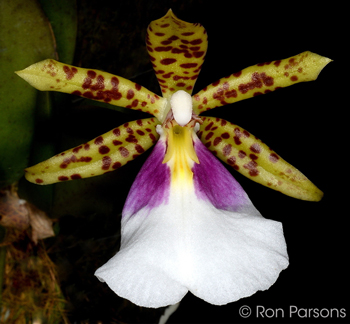 Pollen parent: Trichocentrum tigrinum '7998'