During checkout: select the "Orchid & Flask Orders" payment option.
You will be billed later.
Before you commit to buy, please read About Ordering
In the shopping cart: use your back button to return
Vanda/Neofinetia falcata #4694 outcross (Gojo Fukirin x '1598') (approximately 25 seedlings per flask).

The Species: This species is from Japan, Korea and Ryukyu Islands. It is highly prized for its fragrance. The parents are two plants in my collection that are particularly easy to grow and bloom. The capsule parent is the well-known Neofinetia (syn Vanda) falcata Gojo Fukirin and is shown in the 1st two images. This plant has marginal variegation (which does not show up in the seedlings). But it is the easiest grower and best bloomer that I have. Even without a dry winter rest it blooms well. The other parent is a seed grown plant that is also easy to grow and bloom. The flowers are shown in the 3rd image. Both are wonderfully fragrant.
Culture: This species can be grown under a variety of condition. I grow it in the intermediate to cool-intermediate range, but they can also be grown warm. It can also be grown with cold winters as long as they are relatively dry. Traditionally they are grown on a mound of moss (very good quality moss with a hollow in the center) and there is lots of information on line about different techniques. Besides moss, I have grown them well in medium bark so there is lots of air around the roots and also in coconut fiber. They do well mounted too. Moderate to moderately bright light, generous water and fertilizer during the growing season. In the winter, let the medium dry before watering again. They also do well under lights.
Capsule parent: Vanda/Neofinetia falcata Gojo Fukirin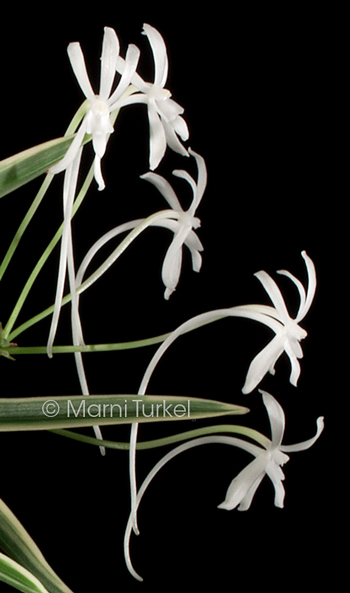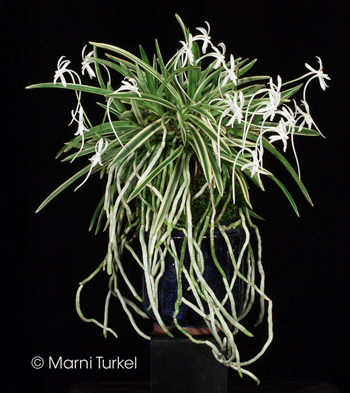 Pollen Parent: Vanda/Neofinetia falcata '1598'