Sold out
Vanda javierae outcross #532 ('Tecson' x 'Banks') (approximately 25 seedlings per flask).
The Species: This is a Philippine species with flowers about 2.5" wide and mostly white.It grows at elevations around 4000 feet in the Philippines as an epiphyte.
Culture: It is an intermediate to cool grower. I fertilize them with 1/4 strength fertilizer most of the year and a bit lower strength in winter. I reduce the watering in the winter a bir, but don't give it a hard dry rest. Moderately bright. I have always grown it potted in a bark mix.
Capsule parent: Vanda javierae 'Tecson'. For reference, the plant is shown in a 3.5" planter
.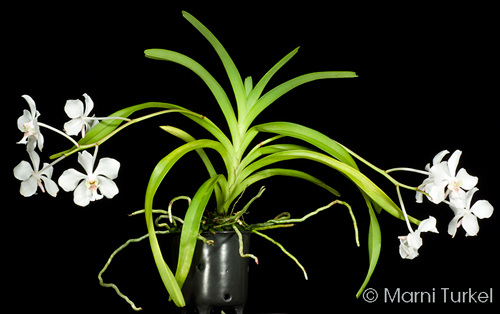 Pollen parent: Vanda javierae 'Banks'