Sold out
Vanda nana outcross #4411 ('3559' x '3555') (approximately 25 seedlings per flask).
The Species: This miniature species is found in Thailand, Vietnam and Cambodia and was formerly named Ascocentrum pusillum. The leaf span of the plant will be 2 to 4" wide. The flower color is variable from light pink to lavender/purple and they are 1/4 to 1/2" wide.
Culture: Grow this in moderately bright to bright light. I grow it in intermediate and warm temperatures but it is adaptable to cooler conditions also. Use dilute fertilizer and allow roots to dry between waterings. It can be grown mounted or potted. If potted, use a relatively small pot and a free draining medium.
Capsule parent: Vanda nana '3559'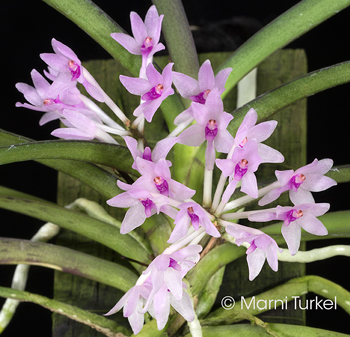 Pollen parent: Vanda nana '3555'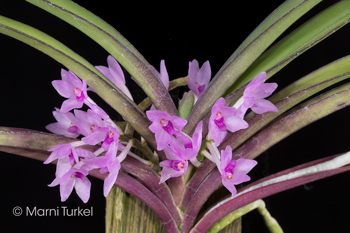 A specimen blooming of an unrelated clone that shows the potential of the species.