During checkout: select the "Orchid & Flask Orders" payment option.
You will be billed later.
Before you commit to buy, please read About Ordering
In the shopping cart: use your back button to return
Vanda roeblingiana outcross #3747 ('5079' x '5079') (approximately 25 seedlings per flask).
The Species: This species is from Malaysia and the Philippine Islands. Both parents of this cross are from the Philippines. It grows at elevations around 5000 feet in shadier conditions than most vandas.
Culture: It is an intermediate to cool grower. I fertilize them with 1/4 strength fertilizer most of the year and a bit lower strength in winter. I water year round and let it dry for longer between waterings in the winter. Moderately bright, but less than most vandas. I have always grown it potted in a medium bark mix.
Capsule parent: Vanda roeblingiana '5079'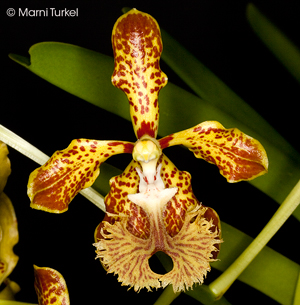 Pollen parent: Vanda roeblingiana '#0318'