During checkout: select the "Orchid & Flask Orders" payment option.
You will be billed later.
Before you commit to buy, please read About Ordering
In the shopping cart: use your back button to return
Aerangis Pioneer primary hybrid #4258 (Aerangis mystacidii x kotschyana)(approximately 25 seedlings per flask).
The Hybrid: When I made this hybrid I was unaware that it had already been made and registered in 1998. I was pleased to see that it is a lovely hybrid and look forward to blooming some of my own cross. It is intermediate between the two parents (which are shown at the bottom of the page). It is more compact than the Aerangis kotschyana making it easy to find room for it in any collection. The hybrid is sweetly fragrant and I have heard it described as like a melon.
Culture: I grow both of the parents in intermediate conditions. This should do well with year round water. The roots should dry quickly. I grow both of the parents mounted with only a little water retentive material at the roots. Both are grown in moderately shady conditions.
Aerangis Pioneer. Photos courtesy of Darlene Jay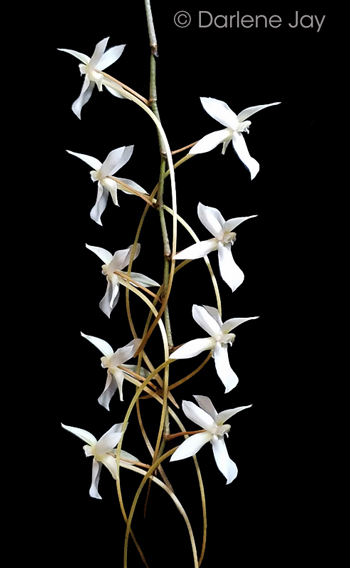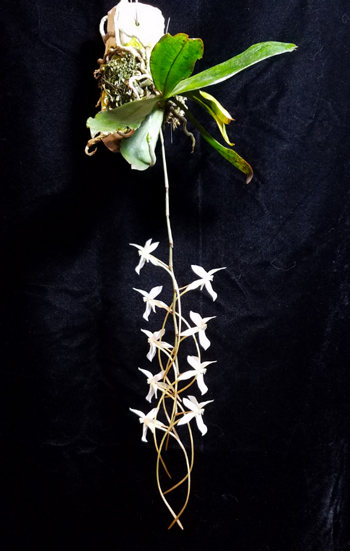 Capsule parent: Aerangis mystacidii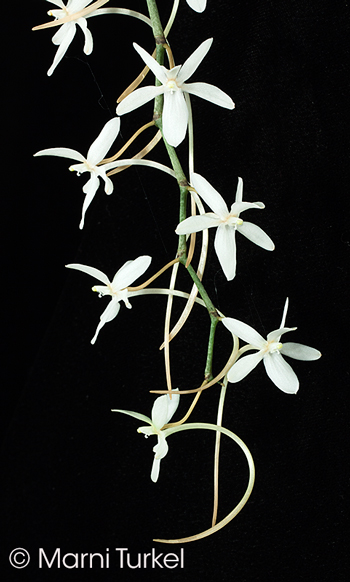 Pollen parent: Aerangis kotschyana