During checkout: select the "Orchid & Flask Orders" payment option.
You will be billed later.
Before you commit to buy, please read About Ordering
In the shopping cart: use your back button to return
Cyrtonaea Memoria Pedro Archanjo #6616 (approximately 15 seedlings per flask).
The Hybrid: A new and unusual hybrid between Promenaea Limelight and Cyrtopodium paniculatum made by Leon Glicenstein. It has been registered as Cyrtonaea memoria Pedro Archanjo. I have no idea what to expect. The plants in flask do not resemple the capsule parent at all, so it is clearly a hybrid and not an inadvertent selfing. Promenaea Limelight is a hybrid between Prom. ovatiloba x Prom. stapelioides that can be from light yellow to dark yellow and with or without barred markings. The parent plant is close to the example shown here, but with Promenaea stapeliodes in the background I would expect it will contribute to the patterning in the offspring. It is about 3" tall and very compact. Cyrtopodium paniculatum is widespread and occurs in northern and western South America at elevations from 1000 to 6600 ft. It can be a large plant and has a many-flowered, branched inflorescence.
Culture: Promenaeas grow best in cool temperatures, moderate light and year round watering. I grow mine in a terrestial mix that never really dries out. I give it regular dilute fertilizer. Cyrtopodium paniculatum is found in areas with warm to cold climates and takes bright light to bloom well. It receives a drier winter season. Hopefully this hybrid with be tolerant of a variety of conditions and easy to grow. My best guess is that these can be grown potted or mount.
I do not have images of the actual parents, so show here representative examples.
Promenaea Limelight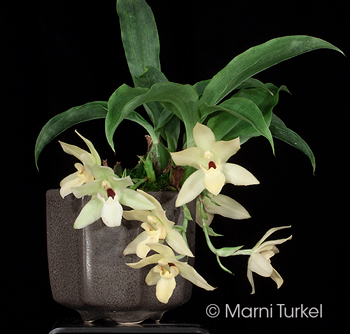 Cyrtopodium paniculatum