During checkout: select the "Orchid & Flask Orders" payment option.
You will be billed later.
Before you commit to buy, please read About Ordering
Dendrobium hybrid unnamed (sanderae var. luzonicum x igneoniveum) #3041 (approximately 25 seedlings per flask).
The Hybrid: This is cross between Dendrobium sanderae var. luzonicum, a free flowering, long-lasting, easy species and Dendrobium igneoniveum a nigrohirsute (black haired) species of medium height that is a bit touchy to grow. The seedlings in flask are robust and grow quickly.
Culture: I grow the Dendrobium sanderae in an intermediate greenhouse in bright light with minimum temperatures of 56F minimum and 80F maximum. It is potted in a fine bark mix. It can benefit by a slight lessening of water in the winter, but not a hard, dry rest. The Dendrobium igneoniveum is a bit more tricky to grow. It does best mounted, but can be grown potted in a fine bark mix. It takes moderately bright light.It will grow in intermediate and warm conditions. I expect this hybrid to be much easier to grow.
Capsule parent: Dendrobium sanderae var. luzonicum #2544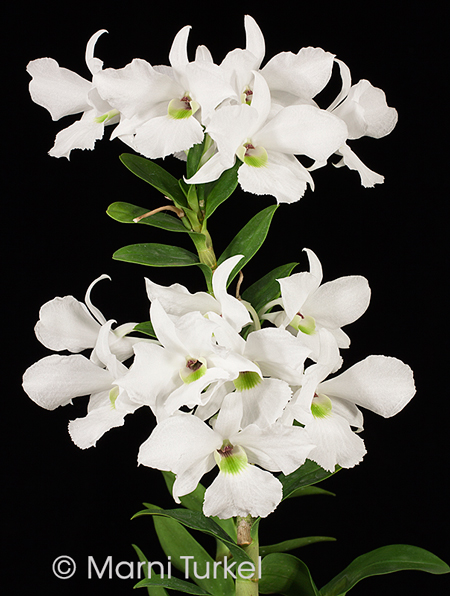 Pollen parent: Dendrobium igneoniveum '#3608'