During checkout: select the "Orchid & Flask Orders" payment option.
You will be billed later.
Before you commit to buy, please read About Ordering
In the shopping cart: use your back button to return
Mystacidium Neil McCormick outcross #2884 (approximately 25 seedlings per flask).
The Hybrid: This is a cross between Mystacidum braybonae and Mystacidium capense. It was first registered in 1984 as Mystacidium Neil McCormick. The first image shown is a wonderful blooming of this hybrid that shows you what a great cross it is. It was grown and photographed by Peter. T Lin. The 2nd image is of Mystacidium capense and the 3rd is of Mystacidium braybonae. Both of the parents are small plants with leaves under 3" tall.
Culture: Both of the parents will grow in the intermediate to cool range. I give both of them a slightly drier winter, though Mystacidum braybonae blooms very well with no dry rest. Because of the pendant spikes and the need for the roots to dry quickly between waterings, mounting is ideal. The roots like to ramble a bit, so a slightly longer than normal mount is a good idea. Fertilizer with dilute fertilizer during the growing season. Give moderate light.
A plant of Mystacidium Neil McCormick, Photographer/Grower Peter T. Lin: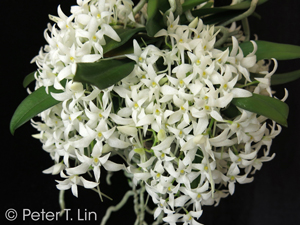 Capsule parent Mystacidium capense: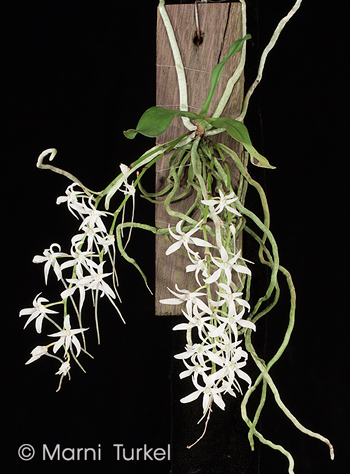 Pollen parent: Mystacidium braybonae