Sold out
An unnamed hybrid Neofinetia falcata 'Shoutenno' x Renanthera citrina #1792 (approximately 25 seedlings per flask).
The Hybrid: Neofinetia falcata is a well known species with many named cultivars. The one used in this hybrid has a pink to dusty rose sepaline tube and single flower per inflorescence and is shown below. Renanthera citrina is a warm growing species with 25 flowers per inflorescence. The image shown below is not the same clone used for this hybrid but is representative of the species.
Culture: I can only guess at the culture for this hybrid. The plants should be compact and certainly good with intermediate culture. They may require a slightly cooler winter, but only experience will tell.
Capsule Parent: Neofinetia falcata 'Shoutenno'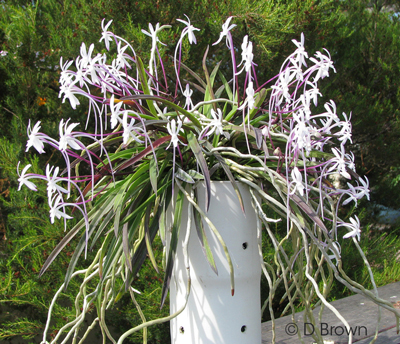 Pollen Parent: Renanthera citrina