Sold out
Paphinia hybrid (herrarae x neudecker) #3178 ('5314' x '12/15') (approximately 25 seedlings per flask). A new hybrid as yet unbloomed. You could be the first. Paphinia species are a bit tricky to grow for some people, the existing hybrids have proven much easier to grow and bloom.
The Hybrid: A cross between Paphinia herrerae and Paphinia neudeckeri. Both are large flowered species and have pendant spikes. The spikes do not go through the medium, but rather travel along the top and then hang down over the side of the container.
Culture: I have grown both of the parents of this cross in intermediate conditions (56 F minimum nights) but now grow them in warmer conditions (62 to 65 minimum nights) where they do very well. I grow them in net pots with a fine bark mix and keep them with my mounted plants where they get watered almost daily. I also grow some on a bench with a bit less often watering. I use dilute fertilizer throughout the year. Give them moderate light. Personally, I have had limited success growing these mounted, but it is possible.
Capsule parent: Paphinia herrerae '5314'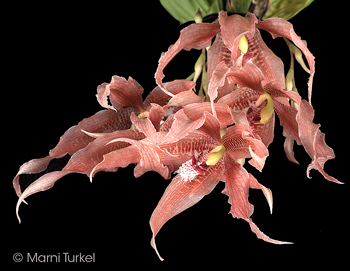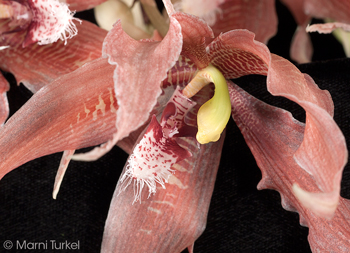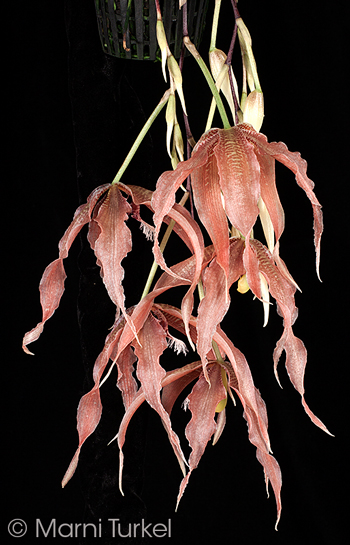 Pollen parent: Paphinia neudeckeri '0449'. These are not the image of the pollen parent, but give a good sense of the species. The ruler below is centimeters.