During checkout: select the "Orchid & Flask Orders" payment option.
You will be billed later.
Before you commit to buy, please read About Ordering
In the shopping cart: use your back button to return
Dendrobium Hibiki (bracteosum short form x laevifolium) #5183 (approximately 25 seedlings per flask).
The Hybrid: A remake of the wonderful hybrid Dendrobium Hibiki which is Den. bracteosum x Den. laevifolium. In 2015 I bought 2 plants of a Den. bracteosum labeled "short form." I used one of them as a parent since it is a compact form that has stayed under 10" tall. There are 3 to 10 of the fragrant flowers per inflorecense which can last 5 to 6 months in prime condition. The other parent is a robust form of Den. laevifolium. I am hoping to make an even more compact form of the original hybrid.
Culture: Intermediate to warm conditions suit this well. Grow it in moderately bright light. Pot in a fine bark mix or in moss (best in a terra cotta pot). It can also be grown mounted. Water with dilute fertilizer. Some recommend a lessening of water in the winter.
Capsule Parent: Dendrobium bracteosum short form '4886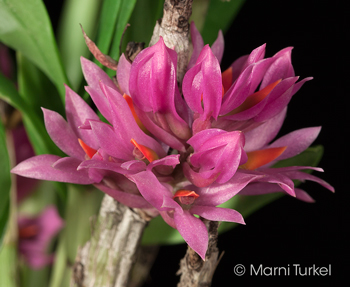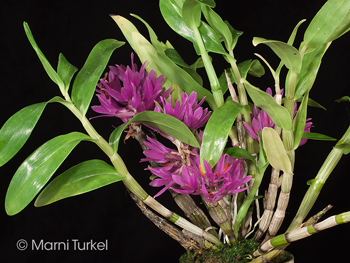 Pollen Parent: Dendrobium laevifolium