During checkout: select the "Orchid & Flask Orders" payment option.
You will be billed later.
Before you commit to buy, please read About Ordering
In the shopping cart: use your back button to return
Catyclia (Epicattleya) Purple Glory (Cattleya violacea 'Muse' FCC/AOS x Encyclia adenocaula) #2344 (approximately 25 seedlings per flask).
Hybrid: Cattleya vioacea is widespread in South America where it grows at low elevations (150 to 700 ft) and gets rain througout the year. The plants can be from 4 to 8" tall and the fragrant flowers are up to 3.5" wide. Encyclia adeonocaua is a small to medium sized plant from Mexico with long-lasting 4" flowers held well above the foliage with the flowers on the upper 1/3 of the inflorescence. It grows at elevations between 3300 to 6600 ft and receives a distinct dry rest in the winter. Both species are fragrant.
Culture: Since the cultural requirements for the two parents are different, it is hard to say what culture will be best. I am hoping for an adaptable plant. I would guess warm to intermediate perhaps with a slightly dryier winter.
Capsule Parent: Cattleya violacea 'Muse' FCC/AOS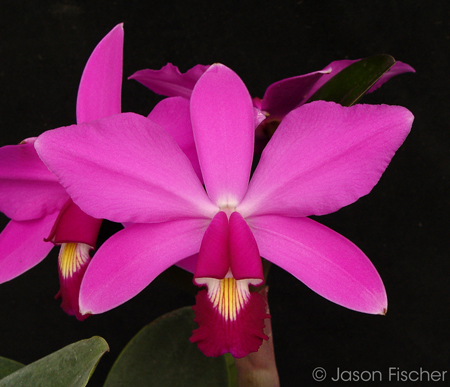 Pollen Parent: Encyclia adenocaula (representative of the species)