During checkout: select the "Orchid & Flask Orders" payment option.
You will be billed later.
Before you commit to buy, please read About Ordering

Lycamerlycaste unnamed hybrid #1398 (Lycaste virginalis '6512' x Sudamerlycaste lata 'Stony Point') (approximately 25 seedlings per flask).
The Hybrid: A cross between Lycaste virginalis/skinneri and Sudamerlycaste/Ida lata. Lycaste virginalis (syn Lycaste skinneri) is a large flowered species. I used this clone because it had 5 flowers on a pseudobulb as a first bloom seedling with the flowers measuring 5 to 5.5" wide. The color is a soft pink with a dark pink lip with mottling as a picottee. The Sudamerylcaste lata (syn Ida lata) is a green and white species noted for mass bloomings and its small stature. I am hoping for a very floriferous, moderately sized plant.
Culture: I grow Lycaste virginalis in intermediate conditions (56 to 80°F) in moderately bright light. It gets year round water with dilute fertilizer and some time released fertilizer for the spring and summer. The Sudamerlycaste lata grows well in intermediate and warm (63 to 85°F) conditions. Again in moderate to moderately bright light with year round water. I expect this will be easier to grow than either of the parents and adaptable to intermediate or warm conditions.
Capsule Parent: Lycaste virginalis '6512'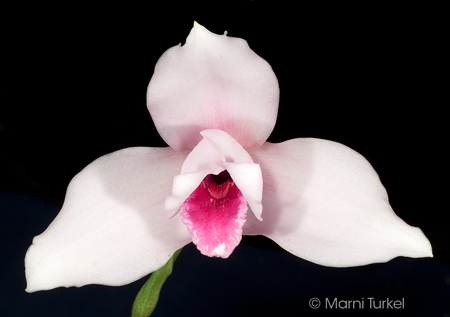 Pollen Parent: Sudamerlycaste lata 'Stony Point'